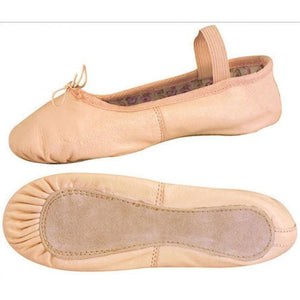 DESCRIPTION:  
Danshuz's full-sole leather ballet slipper has an elastic strap attached with elastic drawstring.  Its rose-printed lining makes it a beautiful shoe for any child ballerina. Content: Upper: Leather.
SUGGESTED FITTING:
Child/Youth - order 1 1/2 sizes larger than street shoe size.  
(This information is shown as a guide only and not a guarantee.  Actual fitting may vary.)
If your size is not available, please call or email us right away.   We will order it for you.  We want to make sure you get what you need and want!